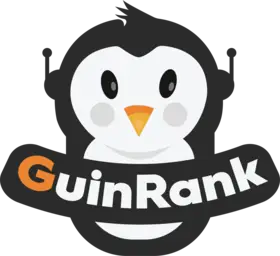 Terms & Conditions
Thanks for using our products and services ("Services"). The Services are provided by GuinRank LLC ("GuinRank") .
By using our Services, you are agreeing to these terms. Please read them carefully.
Using our Services
Using our Services does not give you ownership of any intellectual property rights in our Services or the content you access.
You may not use content from our Services unless you obtain permission from its owner or are otherwise permitted by law. These terms do not grant you the right to use any branding or logos used in our Services. Don't remove, obscure, or alter any legal notices displayed in or along with our Services.
Our Services display some content that is not GuinRank's. This content is the sole responsibility of the entity that makes it available. We may review content to determine whether it is illegal or violates our policies, and we may remove or refuse to display content that we reasonably believe violates our policies or the law. But that does not necessarily mean that we review content, so please don't assume that we do.
Description of GuinRank Services
GuinRank provides users with access to a rich collection of resources (including but not limited to Keyword Research tool, content optimization tool, Content Rewriting tool, and Content Translation) related to SEO content marketing, SEO copywriting, Search engine optimization, and Google Ranking algorithm.
You also understand that the Service may include certain communications from GuinRank, such as service announcements, administrative messages and that these communications are considered part of GuinRank free registration and paid subscriptions. Unless explicitly stated otherwise, any new features that augment or enhance the current Service, including the release of new GuinRank properties, shall be subject to this Agreement.
You are responsible for obtaining access to the Service, and that access may involve third-party fees (such as Internet service provider or airtime charges). Additionally, you must provide and are responsible for all equipment necessary to access the Service.
Your Registration Obligation
As a registered user of GuinRank service, you represent that you are of legal age to form a binding contract. You also agree to:
(a) provide true, accurate, current and complete information about yourself as prompted by the service's registration form (the "Registration Data") and
(b) maintain and promptly update the Registration Data to keep it true, accurate, current and complete. If you provide any information that is untrue, inaccurate, not current or incomplete, or GuinRank has reasonable grounds to suspect that such information is untrue, inaccurate, not current or incomplete, GuinRank has the right to suspend or terminate your account and refuse any and all current or future use of the service (or any portion thereof).
In case of any violation of the above, GuinRank reserves the right to cancel and/or to block you from accessing the Site as well as to disclose any information as necessary to satisfy any law, regulation, governmental request or partner request, at its sole discretion.
No Resale or Redistribution of Service
Except as expressly authorized by GuinRank, you agree not to reproduce, duplicate, copy, sell, trade, resell, modify, create derivative works, or exploit for any commercial purposes, any portion of the Service or the Software, use of the Service, or access to the Service or computer code that powers the Service (hereafter sometimes known as "Software").
Permissions
Please contact us to discuss the grantiing of permission to use any of the content on the site, including tips and tricks, tool reports, guides, publicly available content, and Premium content. We look forward to hearing from you.
Copyright Abuse
We respond expeditiously to notices of claimed manipulation or abuse of the Service and terminate users or account holders who are "repeat infringers."
Account Access
You must provide your legal full name, a valid email address, and any other information requested in order to complete subscription process. Your login may only be used by one person – a single login shared by multiple people is not permitted. You are responsible for maintaining the security of your account and password. GuinRank cannot and will not be liable for any loss or damage from your failure to comply with this security obligation.
​Email Newsletter
By registering an account at GuinRank ( free or paid ) you're giving us your permission to send email notifications to the email address that you have specified upon registration.
These email notifications may include: updates to GuinRank' toolset, tips & tutorials on using GuinRank tools, promotional offers and system messages.
​You're also given an option to subscribe to weekly updates from GuinRank blog, which is not obligatory for completing the registration process.

​Please be advised that you can opt-out from any of these emails any time by using the "unsubscribe" link that is included at the bottom of each email that we send to you.
We may send emails via our own mailing service or via a third party service like MailChimp.
Unauthorized Users
You must be a human. Accounts registered by "bots" or other automated methods are not permitted.
Blocking of IP Addresses
In order to protect the integrity of the Service, GuinRank reserves the right at any time in its sole discretion to block Registrants and Members from certain IP addresses from accessing the Website.
Refund policy
GuinRank is not obligated to provide you a refund at any time. The 7 USD (or the equivalent in your local currency) for the 7-day trial subscription is strictly non-refundable. For your monthly subscription, you have 72 hours after the transaction to request for a refund. For your Yearly subscription, you have 14 days after the transaction to request for a refund, but please be advised that we reserve the right to decline that request should we see high activity on your account within this time.
Cancellation of service
GuinRank reserves the right of unilateral service cancellation under the following circumstances:
Client breaks these Terms and Conditions;
Client attempts to inflict damages on the reputation or normal work of GuinRank.com;
Client diverges from the normal usage patterns established by GuinRank services;
As respond to requests for customer service;
GuinRank receives abuse request concerning user actions from law enforcement agencies.
Cancellation of service by client implies that all the responsibilities about data, received by GuinRank.com services, covered by these Terms and Conditions, are in effect.
About these Terms
We may modify these terms or any additional terms that apply to a Service, for example, reflect changes to the law or changes to our Services. You should look at the terms regularly. We'll post notice of modifications to these terms on this page. Changes will not apply retroactively and will become effective no sooner than seven days after they are posted. However, changes addressing new functions for a Service or changes made for legal reasons will be effective immediately. If you do not agree to the modified terms for a Service, you should discontinue use of Service.
These terms control the relationship between GuinRank and you. They do not create any third party beneficiary rights.
If you do not comply with these terms, and we don't take action right away, this doesn't mean that we are giving up any rights that we may have (such as taking action in future).
If any of these Terms and Conditions are rendered invalid or void, the other Terms and Conditions will remain in fact.
The section titles in the TOS are for convenience only and have no legal or contractual effect.
AddOns-9-->
AddOns-12-->