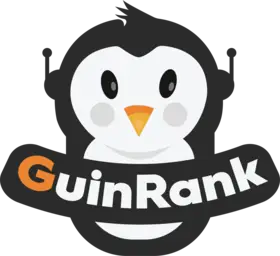 Content Writing | Your Definitive Guide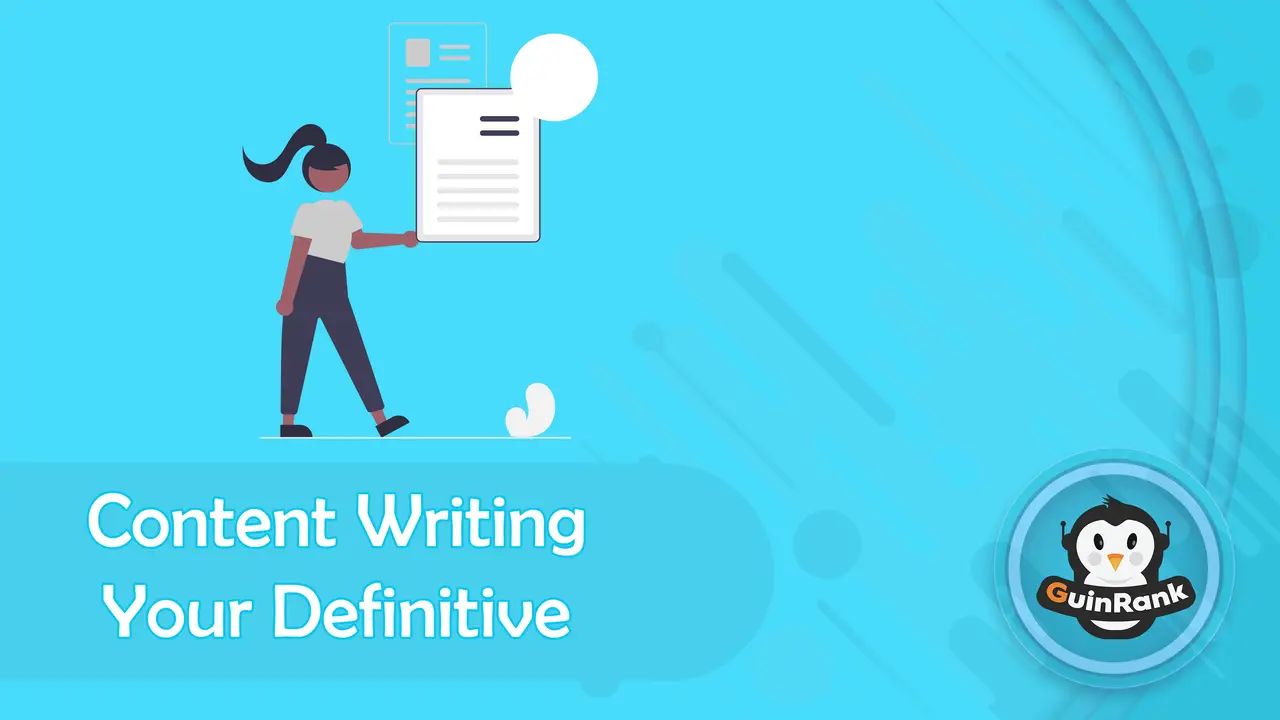 Content Writing | Your Definitive Guide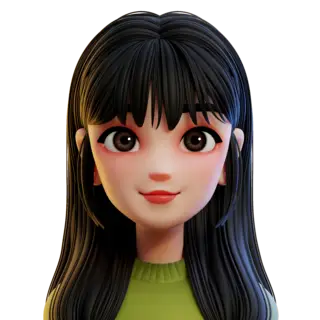 Content writing is both a talent and a skill, as you can learn and gain professional writing skills.
So we will introduce this article about content writing for beginners.
Learning the steps of writing content correctly and professionally will help you write robust, high-quality content understandable to search engines.

Content writing is the process of researching and writing any web content.
The content is written with a specific title, and the article contains as much information as possible on any topic.
An expert in content writing is known as a 'freelance content writer' A content writer writes content for websites in different niches, such as blog posts, videos, images, eBooks, and social media posts. Content writers often do this job as a side job.

Now let's get acquainted with the content.
The concept of content has changed in recent years.
It is no longer limited to information and publishing essays, and the idea has evolved into more than that.
The content includes images, videos, and even audio recordings.
Every means of communication with people has become a kind of content.

Often when people hear about content writing, their minds go straight to writing articles, so let's show you all kinds of content:
Video description.
website content
Product descriptions.
Advertising and marketing flyers.
Email Bulletins.
Social Media Posts.
Videos on YouTube or other platforms.
There are two kinds of content writers, the copywriter and the SEO content writer.
Everyone who works as a content writer knows the value of content writing compatible with search engine optimization, so content writing for SEO has become necessary.

Writing SEO content is creating and improving high-quality content to top the results of search engines, especially Google, so in addition to producing excellent content, it must be written for on-page SEO.
What is a content strategy?
To write content that competes in search engines, you must have a content plan called a content marketing strategy.
This plan starts from thinking about content to creating, publishing, and promoting it.
Now, do you know how important it is to have a content plan?
There is no doubt that the system is in anything beautiful, so creating a content strategy will contribute to the excellent planning of the site and put it on the right track. This is the difference between those who work without a plan and those who build brands.
How do you create a content strategy?
Do not be surprised. Content creation begins before writing, so planning content writing must be done first; follow these guidelines.
Define your target audience
Google has become very interested in user experience, so you must know your audience before content writing.
Monitor competitors on social media websites and follow audience comments to know everything about them.
Once you collect these details, move to the next stage.
 Define Your Topic Area
Prepare a list of keywords for the target audience To produce improved content.
To find out what your audience is interested in, this is the best way:
 Use the Q&A tool
The key to knowing what people are looking for is asking for.
When you know the questions, you have to write the content that gives them the answer and the details and information they want.
You can research Quora and Reddit quickly.
You also have the popular Google tool "Answer The Public" which provides all the frequently asked questions about your target topic.
Now that you have figured out what your target audience is interested in and what they are looking for, you can start researching words and phrases specific to the content.
Select the keywords you are going to write about
Now that you know what your audience is interested in and have decided what topics to write about, it remains only to understand how to use it correctly:
1. Start with a comprehensive search for your field, We call it the cornerstone.
For example "If you sell iPhones" your keyword would be "iPhones".
2. Use more specific words:
The best phones.
Specifications of each phone.
Best sales
Best selling phones
Questions by people on Google for iPhone.
3. Now, start preparing a list of words to search for; Start with long-tail words, and they are easy to compete with and are more relevant to people's research.
 Use SEO content tools.
You now have lines, phrases, and words related to your topic.
All you have to do is analyze the words in the search tools to identify the terms more accurately, and you can easily know which long-tail search words to target initially.
These tools are free like Google AdWords, and paid tools like SEMrush and Ahrefs, paid more accurately.
Create SEO Friendly Content
X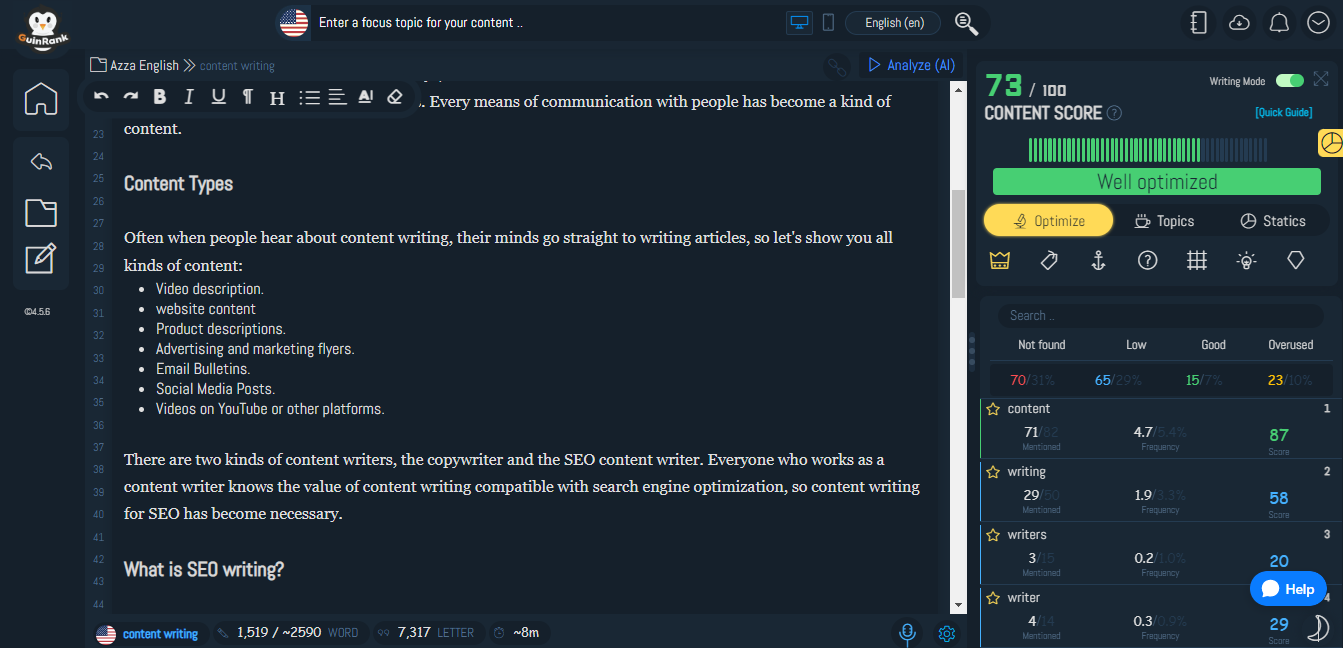 We have come to the content crafting stage, and now we are writing strong content for your words that you have settled on while content writing, It would help if you did the following:
Consider the basics of search engine optimization in content writing (titles , meta description , images description , keyword distribution etc.).
Use GuinRank to analyze keywords and get the most important words used in the article to top the search results.
Keeping your search intent in mind when content writing, write content that meets the needs of your target audience.
Provide valuable content that contributes to building your digital identity.
When you provide optimized content, you get high rankings in search engines and thus increase your blog visitors.
Constant updating of content
Use the GuinRank tool to update your word analysis, know your ranking among competitors, and rate your article with our link analysis tool to update and edit content and skip competitors.
Publishing content on social media
Create accounts for your website or blog on all social media platforms; this contributes to improving the external SEO of your site.
Measuring the success of a content strategy
You must monitor the performance of your strategy to know whether it is on the way to success or not by following the following:
Organic Visitor Traffic: Follow Google Analytics or Search Console to analyze your visits and determine what organic traffic is.
The more traffic, the more successful the strategy.
Indexed website Pages: This indicates your success. Always make sure to report coverage in a console, and be sure to index all your pages.
SERPs Results: Your ranking in the SERPs is very important to know how well the content meets the needs of your target audience.
What is the best content optimization tool?
GuinRank the tool is the best SEO tool for content optimization; In this paragraph, we will answer the question "How do I write an article on GuinRank" Here, you find "how to write an article on GuinRank correctly."
Keyword analysis.
X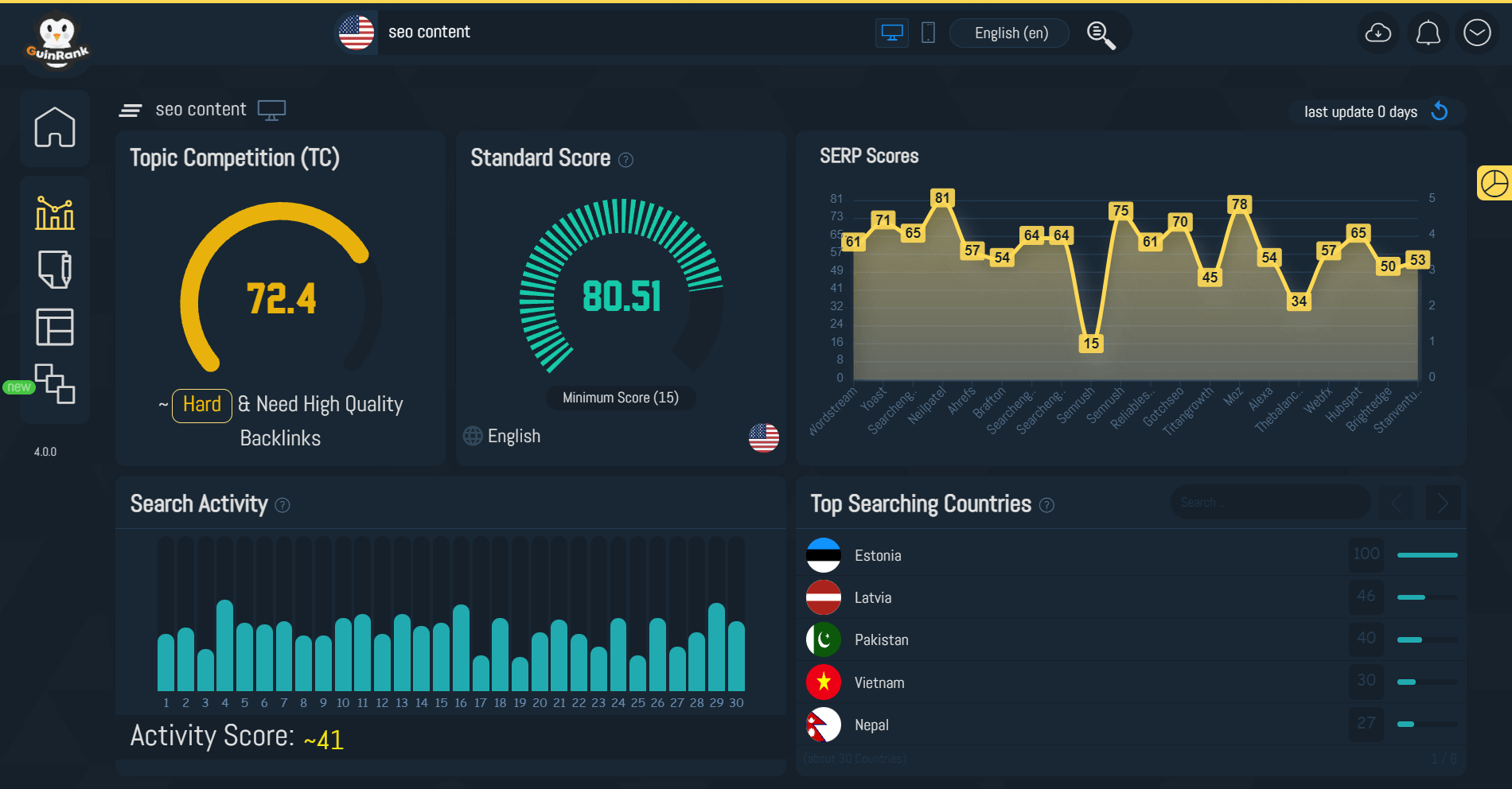 We learned above about the content strategy; after you have settled on choosing your words, here comes the role of the "keyword analyzer" tool, which offers many advantages as follows:
Keyword analysis gives you tips to write a good and distinctive article that qualifies you to rank in search results in search engines.
Score analysis of the first twenty writings in the search results.
A list of words that should be present in the article and providing suggestions in choosing the article's headline, a suggestion of words that can be used to describe the article.
The ability to compare your writing with the leading articles.
Disclose the details of competitors' content so that you can outperform them.
Write an article on the "content optimizer".
It is the most important point, and from experience, write the article directly on the tool.
While using the tool in writing the article, you can learn a few important things, as a list of the most important words is prepared.
Here writing an article has become very easy, you write, and artificial intelligence (AI) helps you and provides you with the words and elements of your article, so you can use "key words tags" that give you several ideas to add subheadings to each paragraph of your article.
When writing, you must adhere to the correct factors so that you can easily produce search results, and this is the guideline:
Please pay attention to the first paragraph of the article and how to write the keyword in it so that the reader and artificial intelligence understand it.
You must learn how to write the words in the (not found) box to raise the article's score and not use the tags except when necessary.
In the side menu of the page, you will find many words, and they are important, but you must pay attention to the first ten words so that the intelligence can understand your writing and the idea based on it.
It is a writing tool that helps you create content creative, SEO-friendly, not copy, simple, and great content that competes for the top search results.
Now you know about web content writing skills and creating a content strategy, we will present other essays on how to write content marketing for web content writers who provide content writing services and copywriting content and work from home.
Seen : 3357
View : 221
Amp : 3288
AddOns-9-->
AddOns-12-->